Cultural Economist &
Publisher
Compiler Press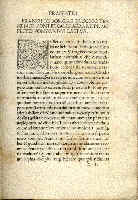 Giulio Pomponio Leto, 1425-1497. Romanae historiae compendium ab inheritu Gordiani Iunioris vsque ad Iustinium .III. Venice: Bernardinum Venetum de Vitalibus, [12 December 1500].

The Infancy of Printing:

Incunabula at the Golda Meir Library
At present WCIN offers two publications for sale:
3.1 The Compleat Multilateral Copyright and Related Agreements, Conventions, Covenants & Treaties 1998; and

3.2 The Compleat Canadian Copyright Act 1921 to 1997: Current, Past & Proposed Provisions of the Act plus Annual Update 1998.
A full description of these works and ordering procedures are provided below.
In addition, WCIN offers free e-mail copies of Compiler Press Copyright Review #1, #2 & #3. Details are provided below.
3.1 THE COMPLEAT * MULTILATERAL COPYRIGHT AND RELATED AGREEMENTS, CONVENTIONS, COVENANTS & TREATIES 1998
CONTENTS
43 multilateral agreements plus ancillary amendments, protocols and conventions

indexed and titled to facilitate identification and search of multilateral terms & conditions (most originals not titled or indexed)

ratification and status as of 1998

standardized format and font (Old Bookman 10 point italic, bold &12 point flourishes)

reproduced in original International or American English, e.g. programme vs. program

URLs to relevant treaty text and ratification web sites as of May 21st,1999

Glossary of International Juridical Terms
25 Global Agreements

Berne Copyright Convention; Universal Copyright Convention; WIPO Copyright Treaty; Circulation of Obscene Publications; Commercial Samples and Advertising Materials; Databases; Double Taxation; Educational, Scientific & Cultural Materials; Exchange of Publications; Film Registration; Folklore; Government Documents; Indigenous Nations; Integrated Circuits; Performances & Phonograms; Performers, Producers of Phonograms & Broadcasting Organizations [Rome Convention]; Producers of Phonograms; Satellites; Trafficking in Obscene Publications; Trade in Intellectual Property; Type Face [Vienna Agreement]; Tunis Model Law for Copyright in Developing Countries; Visual and Auditory Materials; World Intellectual Property Organization (WIPO) Convention; WIPO-WTO (World Trade Organization) Agreement
12 Regional Agreements

COUNCIL OF EUROPE

Audiovisual Heritage; Broadcasts from Outside National Territories; Television Film Exchange; Television Broadcast Protection; Transfrontier Broadcasting by Satellite; Transfrontier TV

EUROPEAN UNION

Computer Programs; Databases; Harmonizing Term of Copyright Protection; Rental & Lending Rights; Satellite Broadcasting & Retransmission; Topographies of Semiconductors
NORTH AMERICAN FREE TRADE AGREEMENT

Part Six - Intellectual Properties, edited
5 UNESCO Recommendations

Direct Television Broadcasting; Moving Images; Status of the Artist; Traditional Culture & Folklore; Translators & Translations
SIZE & DATE
523 pages, 5+MB of WORD files, publication date: June 13, 1999
FORMATS
Paper: 3-hole punched, shrink-wrapped, cardstock cover

WORD CD-ROM with 102 page searchable Meta-Index of agreements

Direct WORD e-file transfer with 102 page searchable Meta-Index of agreements
PRICES: All sales outside Canada in $US
Paper: $149.95 + $5.95 S&H = $155.90

WORD CD-ROM: $199.95 + $5.95 S&H = $205.90

Paper + CD-ROM: $ 279.95 + $5.95 S&H = $285.90

Direct e-file transfer:$149.95 + no S&H =$149.95
Annual Update '99 (pending Feb/Mar 2000)
Paper or floppy WORD file: $25.00 + $5.95 S&H = $ 30.95

Direct e-file transfer: $25.00 + no S&H = $25.00
Prepayment Required

Pro Forma Invoice on e-mail request

3.2 THE COMPLEAT CANADIAN COPYRIGHT ACT

Current, Past & Proposed Provisions of the Act 1921 to 1997

plus Annual Update '98

CONTENTS
complete chronology of 45 statutes, draft statutes & official reports

complete index by major heading of the Act

complete index by section heading of the Act

each section edited or appended to display changes since 1921

complete index by major and section heading pre-SC 1997 c. 24

redundant, repealed, transitional and unassigned provisions of past statutes, draft statutes and official reports
SIZE & DATE
230 pages, publication date October 31, 1997, Annual Update '98 February 22, 1999
COMPILATION
37 statutes passed by Parliament between 1921 and 1997

4 draft statutes considered between 1987 and 1997 including Bill C-32, 1st Reading

4 official reports published between 1977 and 1986 including Copyright in Canada: Proposals for a Revisions of the Law [Keyes/Brunet Report] (1977), From Gutenberg to Telidon (1984), A Charter of Rights for Creators (1985) and The Government Response to A Charter of Rights for Creators (1986)
FORMAT
PRICE: All sales outside Canada in $US
Paper including Annual Update '98 $99.95 plus $5.95 S&H = $105.90

Paper 1996 Edition pre-S.C. 1997, c.24: $79.95 plus $5.95 S&H = $85.90
Annual Subscription Updates ('99 pending Feb/Mar 2000)
Paper or floppy WORD file: $25.00 plus $5.95 S&H = $ 30.95

Direct e-file transfer $25.00 plus no S&H = $ 25.00
Prepayment Required

Pro Forma Invoice on e-mail request
TO ORDER

Cheque payable to either:

Harry Hillman Chartrand or

Compiler Press

706 Lansdowne Avenue, Saskatoon, SK, Canada, S7N 1E5

Telephone: (306) 244-6945
* Compleat from Walton's Compleat Angler, The Concise Oxford Dictionary of Current English, 6th Edition, Oxford University Press, Oxford, 1976, p. 206. Also see: "The Compleat vs Complete" Website http://www.mindspring.com/~mcgatney/compleat.htm
3.3 FREE COMPILER PRESS COPYRIGHT REVIEW